---
---
Hello Crafty Friends Happy Thursday,
I am excited to be on the blog to day sharing some cards and backgrounds inspired by the wonderful Kristina Werner and her amazing distress oxide colour combinations she shared on a recent video.
I got a bit carried away and made NUMEROUS backgrounds which I will turn all into cards in the next few days. But for today I will share the few cards I did manage to finish.
I have to be honest I had a very tough time not creating more backgrounds - this sure help start my creative juices as the last few weeks I have had a difficult time creating. So Thanks you Kristina you helped immensely.
---
---
Hello and Happy Monday,
Its about that time again for a new challenge on the Cards in envy blog.
This weeks challenge theme is Favorite Holiday (Create a card featuring ANY holiday that's one of your favorites)
My favorite Holiday is Christmas, everything about Christmas time is magical to me.
We would love to see what your fave holidays are, so come on over and play along.
---
---
Hello and Happy Monday everyone,
Hope you all had a lovely weekend and enjoyed some crafty time.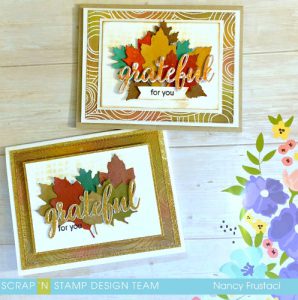 I am back on the Scrap'n Stamp blog today with a new card, which is inspired by the up coming Thanksgiving holiday.
Even though its just one day it's always good to take time to think about all we are grateful for, and to let those we care about know just how special and appreciated they are.
Showing 1 to 3 of 3 (1 Pages)