Mft- Floral Blooms
I started by stamping out these beautiful Flowers in bloom set from My Favorite things on to the pages of the book using my stamping tool and Versa Clair nocturn ink . Then I heat set with clear embossing powder to help the image stand out from the writing, then repeated this process four times.
I also had too many ideas flowing through my head by this point, from art journaling layouts to more cards. So stay tuned for more projects.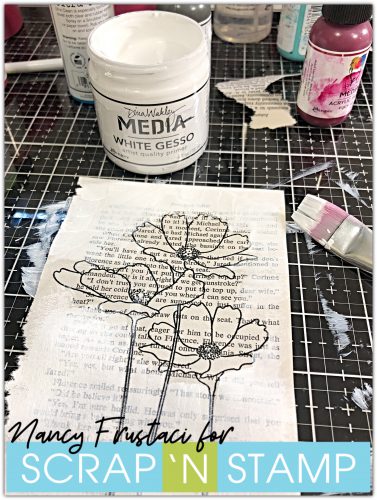 Now that all the stamping and embossing was completed it was time for the fun messy part, getting in with the paints and gesso. This is always my favorite part.
To bring the focus more to the flowers I decided to add Dina Wakley media white gesso to the book pages, carefully going around the flowers. This really helped to mute the print down some and allow the flowers to pop. I decided to actually add some gel medium to the petals of the flowers, I felt this would seal the paper and allow me to wipe any mistakes away easily.
I used many mediums to add color to the flowers, everything from Tim Holtz distress crayons to Dina Wakley paints.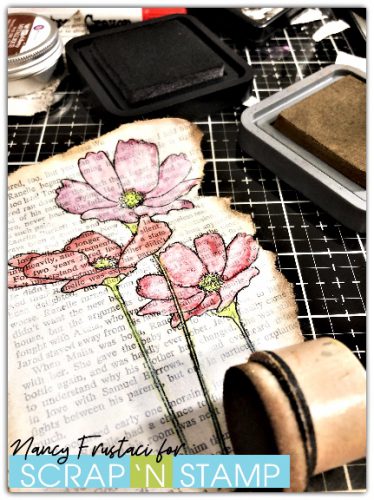 I created three styles of cards with three versions of the painting.
For the above, I would add my paint in and then wipe it away allowing it to stain the paper and give it a night tinted look. Once I was happy with how it looked I decided to distress the edges of the paper, using distress oxides and regular inks.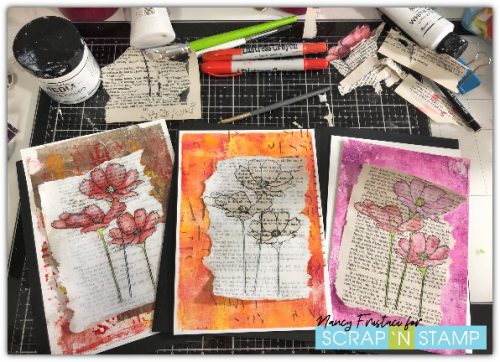 The cards themselves were larger than normal, cards measured 5 ½ X 7 ¾. I used some of my previously created gel backgrounds and really did not want to trim much off of them, thus keeping as much of the detail as possible. I chose the background to match or enhance the flowers.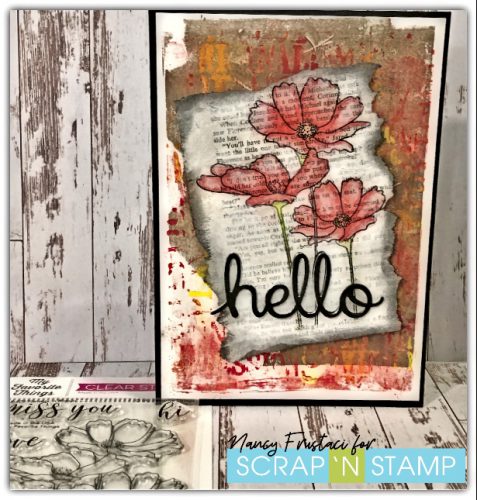 Each gel pressed backgrounds were added to the card flat using a liquid adhesive. For a little dimension popped up the painted flowers using some foam tape. To complete the card I used a simple hello die and layered a few of them together to create dimension also adding a mirror layer to the mix.
I hope you were able to get some inspiration from the above and welcome your comments. Please also make sure to use the links below for your crafting needs.
Have a Great Week!