Scrap'n Stamp: Radical Rainbow Art Journal
I am back on the blog with an art journaling layout. I have to admit it's not exactly my favorite, there are parts I love and well, parts I wish I could redo. But I thought I would keep real with you all and share it anyway.
For this project, I cracked open a new journal. I decided I would try out the black 8x8 Dylusions journal. I just wanted to do something a little different.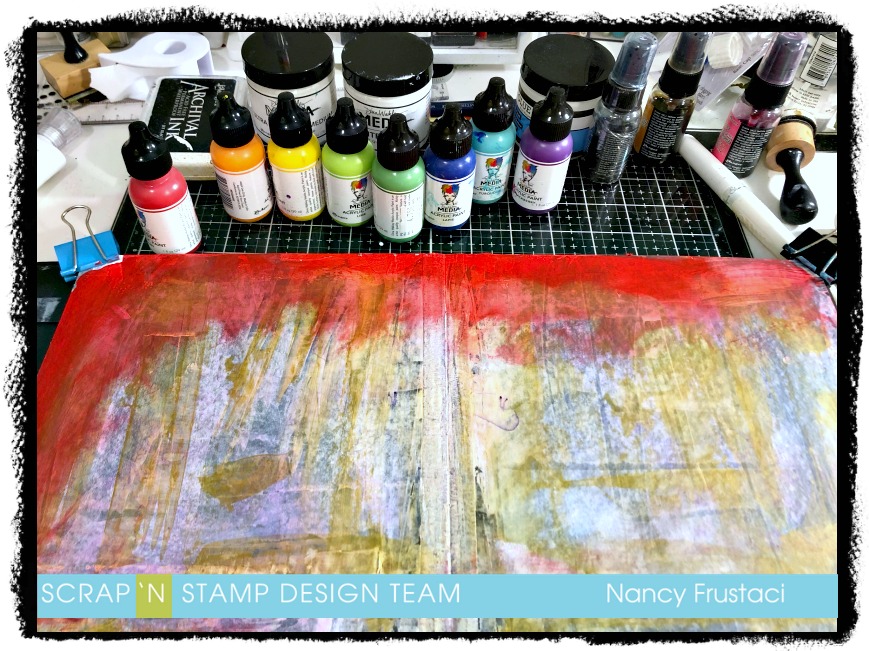 I started out by covering both pages with a light layer of white gesso to prime the pages. As you can see there was more than just the white gesso on the page, you can see the streaks of gold (Glint- Dina Wakley paint). Before I started the actual layout, I used the page as a place to apply my excess paint from another project onto.
I really had no plan for this, it just kind of came together (sort of) lol. I pulled out all my paint and let loose. I really felt like doing a rainbow, so that is what I did. I just went to town applying the paint with my fingers, rubbing it into the page, trying to blend the
colours
together ever so slightly without losing each of them.
In between the layers of color, I would go in with a damp baby wipe and a Dylusions stencil to try and add a little texture, and slightly blend the colors together.
As you can see I did not get a great blend on the colours but I really like how vibrant everything stayed. If I could go back and rework this I totally would but I had to do this in stages in between caring for my twins, so needless to say things dried before I could get back to it. I decided to continue on and see what would come of the design.
I pulled out a few stencils from my stash, which I have linked to below, and my Tim Holtz blending tool with a clean sponge and got right in there. The first stencil I used was the Spring Medallion from TCW and some white gesso and added this to the corners, top, and bottom of the page. Really just wherever I thought it would look good.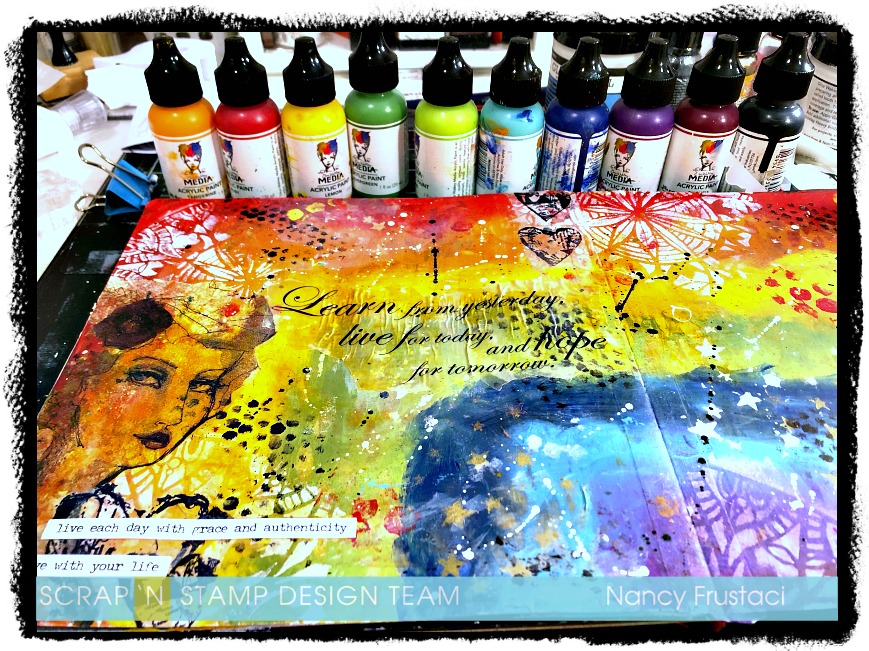 Once I was happy with the first set of stenciling, I rummaged through my stash to pull out things I thought would look good together. I stenciled in some stars and some texture, going in with white gesso, black paint and then the glint paint. Now that I had the stenciling where I wanted it, I watered down some of those same colours and splattered them onto the page. For the white splatter, I pulled out my Sharpie paint pen.
I set that aside to dry and then hummed and hawed over what I was going to do next. Rummaging through all my stash, staring at things for a long time, flipping through the collage collective several times, even going as far as ripping something out. I really was in a bit of a funk and was not sure how I was going to complete this page at all.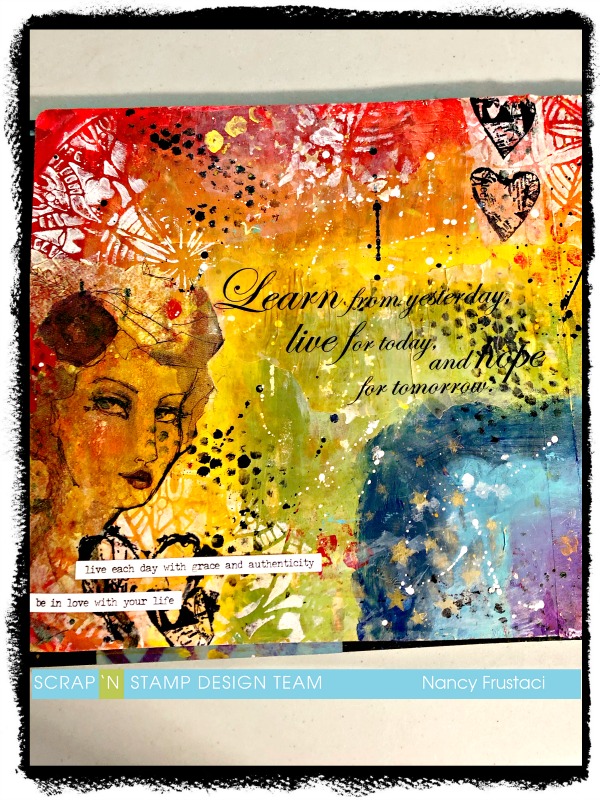 I pulled out some old vellum sentiments I had from my scrapbooking days, as well as some Jane Davenport napkins and decided to collage those onto the background. From there I felt something was still missing so I stamped out some of the hearts from the Collafewd hearts stamp set from Dina Wakley Media. I stamped them onto some collage paper using Archival Black ink and collaged them onto the page as well. I realized quickly that I did not add enough of the gel medium to the back of the collage paper and because of that, you can still see some of the tissue paper. To finish it off I added some sentiment or rather phrases sticker from a Tim Holtz collection.
In the end, I did use the collage collective, I just didn't use what I had set my sights on at first. I trimmed out this girl and added her to the bottom corner of the second page. Once more adding the same collaged hearts just to tie it in together and adding a little sentiment, which I notice is not straight at all, so yeah not happy about that. Lol
I really hope you got some inspiration and enjoyed the crazy little journey I took you on. Its been a little nutty as of late and the page perfectly expresses my state right now, ie a little all over the place.
Have a Beautiful week ahead.
~Nancy